The renovation
the house – slideshow
The renovation was supervised by architect Odile Decq and lasted five years. Most of the craftsmen who worked on the building site had already worked with Antti Lovag. Their expertise helped to resolve the many challenges which cropped up during the renovation.
I first began working on the exterior, just to become familiar with the house.
I sought to do something joyous, completely in line with the Sixties.
Odile Decq
the architect – biography
Odile Decq has an architectural style that questions where body and senses are positioned in living spaces. All of her projects are designed with the idea of a circuit and aim for interactive architecture, be it for the Banque Populaire de l'Ouest in Rennes or the MACRO in Rome and FRAC contemporary art museums in Brittany.
PDF
The approach
architecture – video
Odile Decq describes her discovery of the house and her first impressions. She explains how she first had to become acclimated to Antti Lovag's architecture before beginning work and how she used color to structure her renovation of the house.
The concept of «Too much is never enough» became the color leitmotif.
It's a house that was built while being transformed along the way, evolving, and that continues to develop.
isabelle bernard
project manager – biography
Isabelle Bernard fully committed to the renovation of the house by selecting architect Odile Decq to conduct the work. Together, they both took great care to preserve the house's identity while continuing the adventure that had motivated Pierre Bernard and Antti Lovag.
The challenge
history – video
After their father passed away, Isabelle and Jean Patrice Bernard decided to write a new chapter in the history of the house, ensuring that it remains a place conducive to creativity. The first step was renovation work that reclaimed and modernized the house.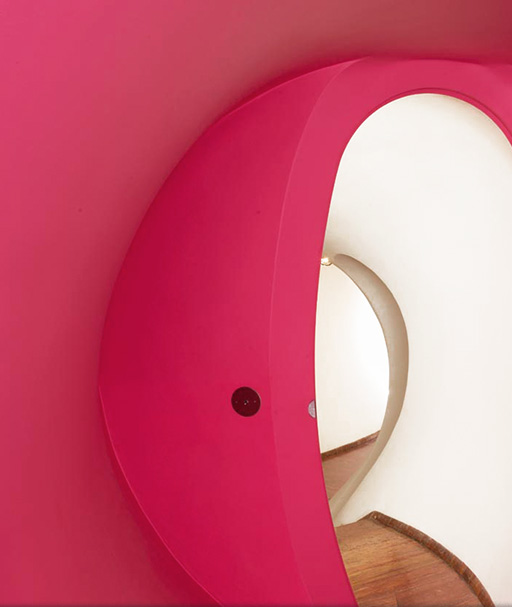 Archives
internet
Odile Decq

press
TOC magazine, n°0, hiver 2014
L'ARCA international, n°115, déc. 2013
Cool Hunting, septembre 2013
Pin-Up, n°11, hiver 2011-12

books
B.P.O., Les Editions du Demi Cercle, Paris, 1990
Odile Decq Benoît Cornette Hyper Tension, Aedes, Berlin, 1995
Odile Decq Benoît Cornette, PHAIDON, Londres, 1996
Odile Decq Benoît Cornette, ELECTA, Milan, 2003
Odile Decq, Movimento e architettura, Iiriti Editore, Italie, 2005
Odile Decq, A&J, Dalian, Chine, 2007
100 Flames for Reading, Adam Biro Editeur, Paris, 2007
Maestri dell Architettura, Editions Hachette, Milan, 2010
Maestros de la Arquitectura, Editorial Salvat, Barcelona, 2011
Au delà du miroir, Paris, 2013
Odile Decq, L'Architettura, Protagonisti, 24 Ore Cultura, 2013
L'Opéra Restaurant, Odile Decq, ESAIL LAB, Lyon, 2013